No, your eyes do not deceive you, I do indeed have a picture to show you of something I've made recently! Not an original design, but a project from Bead and Button - I don't really use netting much so I fancied a go at this. Not too struck on the colour but I love the labradorite chips I've used as the toggle buttons.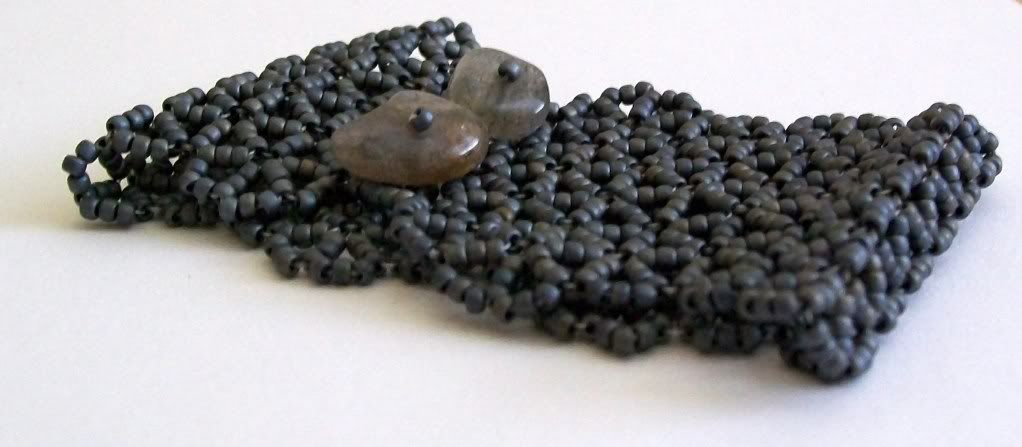 I have so many ideas for pieces I want to make...plus a couple of UFOs, but at the moment I am so busy at work that often I can just about summon up the energy to make and eat dinner, let alone get out the beads and thread. But I do really want to make a go of this jewellery making lark. Yesterday I signed up for a Misi account and I intend to use there and Folksy to sell pieces rather than my own website. It's a start in the right direction anyhow!!
So in the spirit of this, I have a very crafty weekend planned. On Saturday I'm off to the
Bust London Craftacular
to have a look at what other crafty and arty peeps have been up to, so, with the additional aim I have of blogging more regularly, look out for a report back on that in a few days time.
On Sunday I'm heading off to Spitalfields Market - in a brainstorming session I had and idea for a bracelet and I remembered that last time I was at Spitalfields there were a couple of stalls where I might be able to pick up some of what I need to make it. Fingers crossed they are there when I go, otherwise I may end up trawling Ebay for what I want.
So, to summarise...in the future, look out for my jewellery being up for sale on Misi and Folksy, and for more in the way of blogs (I hope to start featuring other craft artists in Blog posts...we crafters have to support each other after all!).
TTFN
xx